90% of users search from mobile, so mobile app is necessary for every business.
The app development industry is going through a transformative phase due to advancement in micro- processing technologies. There are over 3.5 billion technology users, the industry is thriving and growing steadily without any excuse of slowing down. From Android to IOS we have a variety of options to access different tasks and instant updates. App development follow a list of procedure before filing  the final draft which includes coding, designing, application management, trouble shooting, monitoring updates and possible security threats and providing end user support. The basic tools used for any form of app development are- Mac or windows PC, any type of linux, and eclipse, the ADT plugin and the android SDK.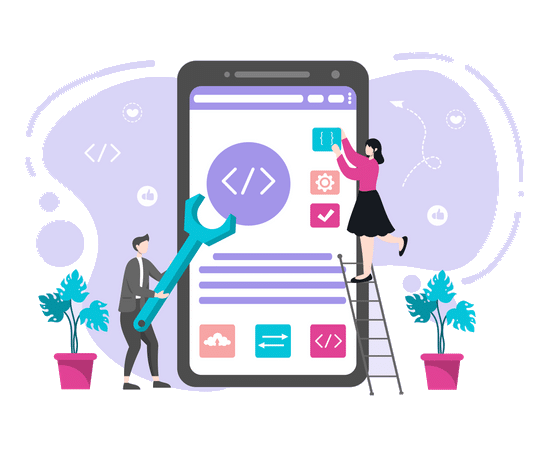 Android apps UX/UI design
Android apps are designed through accumulation of each and every process undertaken by the components of the user experience (UX) and user interface (UI). A UI is designed for eye catching view and comfortable interface. It deals with color scheme, design, font, graphics, widgets and button contained in app. While all the work is put into the look of the app, it is to be noted that app's functionality is the basic priority of any user. It's the UI is key in translating  codes and complicated functionalities into simple features that the user can resonate with. User interface and experience is equally important as backaned functionality.
Native and hybrid app development
Java being a native app specifically made for mobile operating system. Native applications are easily accessible and utilize the built-in capabilities of the user's device.  They are completely fueled by a company's website. A hybrid app uses HTML5 and Javascript which contains more loads of information on page as user navigates through the page. Hybrid app can be built in one source code and released across platforms. Its development time and effort is comparatively less. Hybrid application is not user friendly.

We build Android Apps with user-centered design

We build and deliver as the quality IOS mobile apps

Mobile Progressive works just like an app

We build Windows Apps with user-centered design
App testing for flawless performance
In order for the apps to work flawlessly as per users' expectation it is vital for the app to undertake testing very gravely. The apps functionality, usability, performance, consistency and other factors are put under test. The popular tools for mobile app testing are appium,  robotium, test project, calabash, testdroid.
Factors to consider when app testing is-
Stable network bandwidth and network carriers
Effective end to end security
Great user experience(CX)
Delight with usability
Stable across operating system
Uniform scalability
Wide localization
App support and maintenance
Continuous optimization and monitoring
Guiding materials for users are- products and technical information
Manuals, FAQs, knowledge base with convenient search
Iphone designs for UX/UI designs
Strong interface design is the foundation for engaging user experience. UI elements are designed for touch gestures to make easier interaction. System should have clarity,text should be legible and a sharpened focus on functionality motivates the design. Negative color, fonts, graphics subtly highlight content and convey interactivity. The direct manipulation engages people and facilitates understanding of onscreen content.
IPhone app other services includes:
Native and hybrid app development
Iphone app programming
App testing for flawless programming
App redesigning
App support and maintenance
Frequently Asked Question